Geflochtenes Bauern-Brot 😍👀.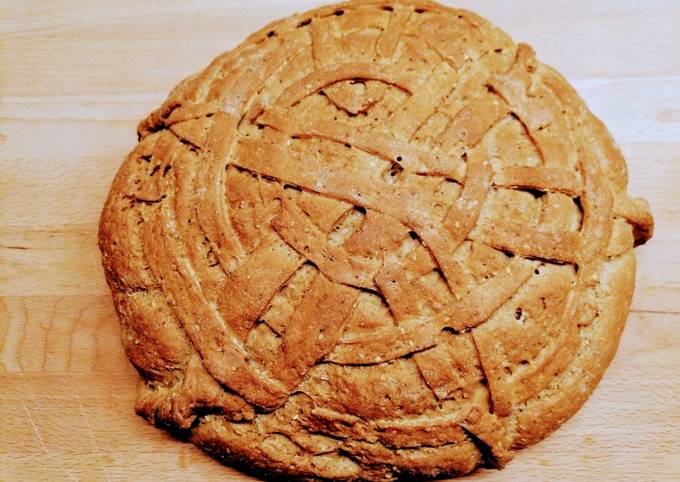 You can have Geflochtenes Bauern-Brot 😍👀 using 9 ingredients and 8 steps. Here is how you achieve that.
Ingredients of Geflochtenes Bauern-Brot 😍👀
Prepare 300 g of Weizenmehl.
You need 300 g of Dinkelmehl.
Prepare 400 g of Roggen-Vollkornmehl.
You need 700 ml of Wasser (lauwarm).
You need 20 g of Salz.
Prepare 20 g of Brotgewürz.
You need 20 g of Chiasamen.
Prepare 20 g of Sesam.
You need 2 Päckchen of Trockengerm.
Geflochtenes Bauern-Brot 😍👀 step by step
Als erstes alle Zutaten abwiegen und vorbereiten… 😍.
Sesam, Salz, Chiasamen, Brotgewürz und Trockengerm vermischen… 😉.
Mehl, Wasser und Körnergemisch⬆️ zu einem Teig kneten…😆.
In eine Schüssel geben und aufgehen lassen bis sich das Volumen verdoppelt hat… 👀.
Den Teig nochmals kräftig durchkneten. Eine faustgroße Kugel👊vom Teig nehmen, dünn ausrollen und in Streifen schneiden… 😜.
Den restlichen Brotteig zu einem Laib formen und auf ein Backblech legen (am besten das Backblech mit Butter 🧈 einfetten, dann bleibt das Brot nach dem Backen nicht am Blech kleben) Die Streifen um das Brot "flechten".Dabei gibt es keine Regeln, einfach so, wie es einem am besten gefällt!… 😎.
Im Backrohr bei 200°C Ober- und Unterhitze ca. 1h backen… 🤗.
Fertig! 😋❤️👏🏼 Wenn euch mein Rezept gefällt oder ihr Fragen habt könnt ihr mir gerne in den Kommentaren schreiben! 🖋⬇️ 😜😊.