Bäckerlaib. Zuerst die Hefe in lauwarmem Wasser und Buttermilch auflösen. Die Bilder im Forum sind nur für Mitglieder sichtbar. Füge einen Kommentar hinzu, benuzte @ um jemanden zu markieren.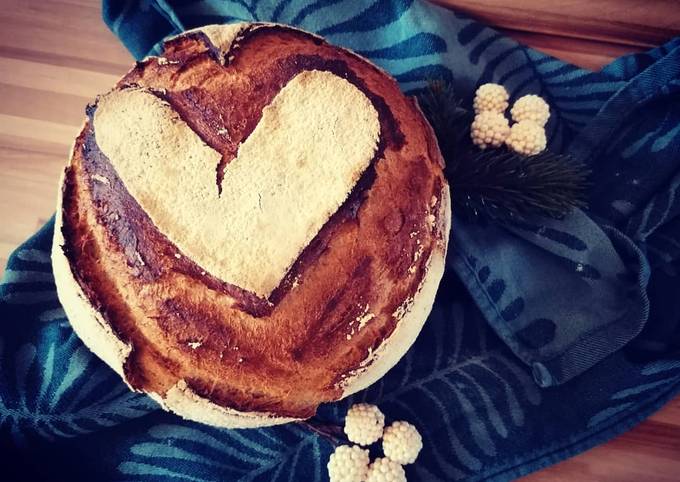 You can have Bäckerlaib using 8 ingredients and 7 steps. Here is how you cook it.
Ingredients of Bäckerlaib
Prepare 250 g of Wasser.
You need 5 g of frische Hefe.
You need 100 g of Buttermilch (Joghurt geht auch).
Prepare 350 g of Weizenmehl Typ 1050.
Prepare 150 g of Roggenmehl Typ 1150.
It's 2 TL of Salz.
Prepare 1 TL of Backmalz.
Prepare 1 EL of Apfelessig.
Bäckerlaib step by step
Zuerst die Hefe in lauwarmem Wasser und Buttermilch auflösen..
Dann die restlichen Zutaten zugeben und zu einem Teig kneten für etwa 3 Minuten..
Den Teig in eine leicht gefettete Schüssel geben und abgedeckt 30 Min. bei Raumtemperatur gehen lassen. Anschließend 1x dehnen und falten und über Nacht in den Kühlschrank stellen abgedeckt..
Am nächsten Morgen den Teig etwa 20-30 Minuten akklimatisieren lassen und dann zu einem Brotlaib formen nach dem Briefumschlagprinzip..
Den Brotlaib in eine gut gefettete und bemehlte Form geben, bemehlen, nach Belieben einschneiden..
Im vorgeheizten Ofen bei 230 Grad Ober-/Unterhitze mit Deckel ca. 60 Minuten backen. Anschließend je nach gewünschter Bräunung nochmal 5-10 Minuten ohne Deckel backen..
Aus dem Ofen nehmen und auf einem Kuchengitter gut auskühlen lassen. Guten Appetit! 😋.