Buttermilch- Dinkel- Brötchen.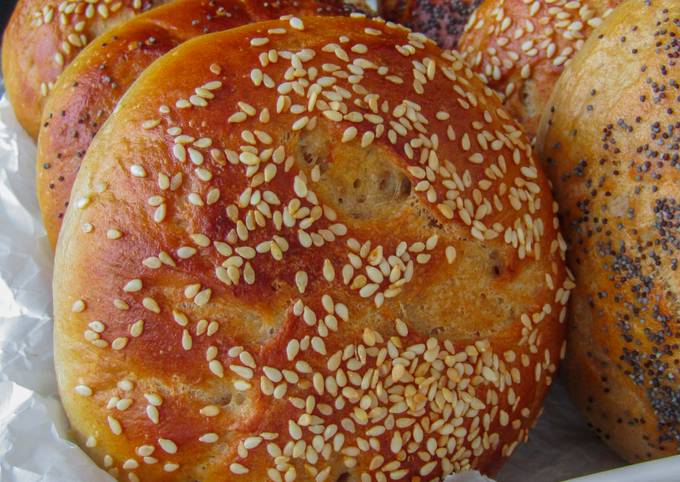 You can have Buttermilch- Dinkel- Brötchen using 7 ingredients and 5 steps. Here is how you cook that.
Ingredients of Buttermilch- Dinkel- Brötchen
Prepare of Weizenmehl (Typ 550).
Prepare of Dinkel Vollkornmehl.
It's of frische Hefe.
You need of flüssige Butter.
It's of lauwarme Buttermilch.
Prepare of Salz.
Prepare of Honig (optional Waldhonig).
Buttermilch- Dinkel- Brötchen instructions
Die beiden Mehlsorten in die Rührschüssel sieben, Salz darüber streuen. Die Hefe in eine kleine Schüssel bröseln und mit ca. 1dl Buttermilch und dem Honig glattrühren..
Die Hefemischung zum Mehl geben und auf kleinster Stufe mit dem Knethaken langsam vermischen. Nach und nach die restliche Buttermilch und Butter zugeben. Du musst den Teig beobachten, ob er noch Flüssigkeit braucht oder nicht. Das Ganze lassen wir 8-10 Minuten kneten. Der Teig darf nicht mehr an der Schüssel kleben..
Den Teig aus der Schüssel nehmen, kurz mit den Händen durchkneten und rund wirken. Auf eine bemehlte Fläche legen etwas Mehl darüber streuen und abgedeckt 60 Minuten ruhen lassen. Den Teig in 8 gleich große Stücke teilen. Alle Teile einzeln durchkneten, rund wirken und auf einem Brett nebeneinander legen, nochmal ca. 30 Minuten rasten lassen..
In der Zwischenzeit den Backofen auf 230° Ober-/Unterhitze vorheizen und eine feuerfeste Schüssel mit 2 dl Wasser in den Ofen stellen..
Die Brötchen mit dem Schluss nach oben auf ein, mit Backpapier ausgelegtes, Backblech legen. Alle mit wenig Buttermilch einpinseln und mit Sesam und/oder Mohn bestreuen. In 20 Minuten fertig backen (die Schüssel mit dem Wasser im Ofen lassen)..