Hefe-freies Brot (postbakerie).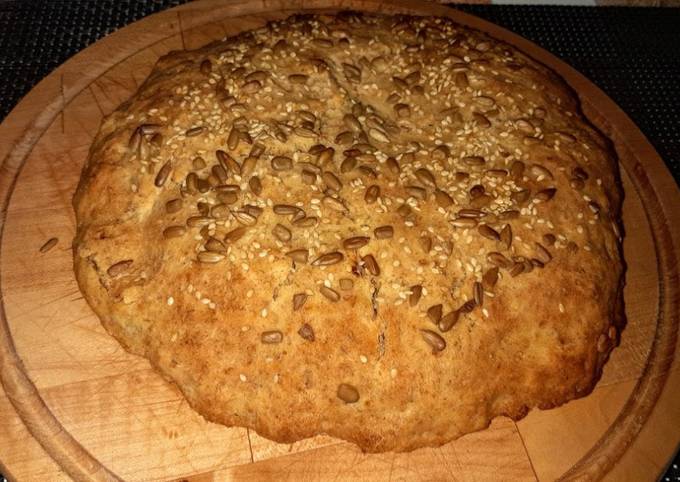 You can cook Hefe-freies Brot (postbakerie) using 9 ingredients and 1 steps. Here is how you cook it.
Ingredients of Hefe-freies Brot (postbakerie)
Prepare 300 ml of warmes Wasser.
You need 1 Esslöffel of Apfelessig 6%.
Prepare 1 Teelöffel of Salz.
You need 0,5 Teelöffel of Zucker.
You need 2 Esslöffel of Pflanzenöl.
You need 350 g of Weizenweißmehl.
Prepare 3 Esslöffel of Weizenkleie.
Prepare 2 Teelöffel of Backpulver.
You need of Sonnenblumenkerne, Sesam.
Hefe-freies Brot (postbakerie) step by step
Apfelessig, Salz und Zucker zu warmem Wasser hinzufügen, mischen und Pflanzenöl hinzufügen. Kleie & Backpulver zum Mehl geben, Wasser dazu, Teig mit einem Spatel kneten. Teig auf ein mit Pflanzenöl gefettetes Backblech streichen, Sesam oder Sonnenblumenkerne darüber streuen und im vorgeheizten Ofen bei 180°C 40-45 Minuten backen. Wenn Sie eine weiche Kruste haben möchten, müssen Sie das Brot nach dem Backen mit Wasser bestreichen, in einem Handtuch einwickeln und 30 min stehen lassen..