Glutenfreies Mischbrot mit Gänseblümchen.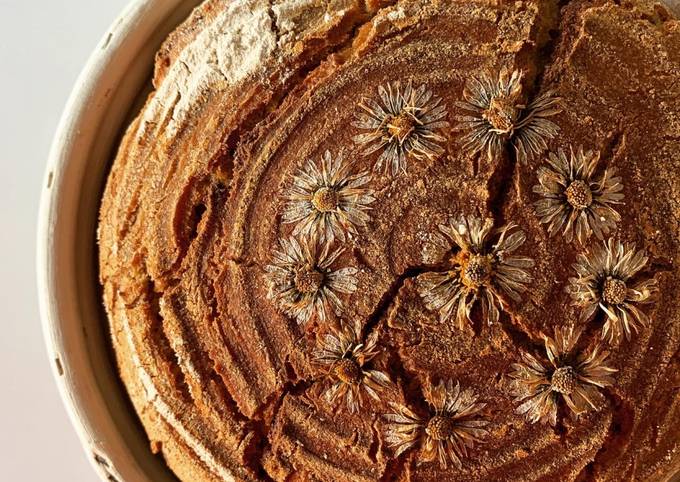 You can have Glutenfreies Mischbrot mit Gänseblümchen using 10 ingredients and 8 steps. Here is how you cook it.
Ingredients of Glutenfreies Mischbrot mit Gänseblümchen
You need of Buttermilch.
It's of lauwarmes Wasser.
Prepare of glutenfreies Sauerteiganstellgut.
It's of Buchweizenmehl.
You need of Amaranthmehl.
Prepare of Quinoamehl.
You need of Kartoffelstärke.
Prepare of gemahlener Goldleinsamen.
Prepare of Salz.
You need of Brotgewürz.
Glutenfreies Mischbrot mit Gänseblümchen instructions
Buttermilch, Wasser und das Anstellgut in einer Schüssel glatt rühren..
Mehle, Stärke, Salz und Brotgewürz sowie den gemahlenen Goldleinsamen dazugeben und zu einem Teig kneten. Ich mache das gerne mit einem Holzkochlöffel – so lange, bis sich der Teig vom Schüsselrand löst, aber grundsätzlich weich ist..
Den Teig zugedeckt bei Zimmertemperatur mind. 6 Stunden rasten lassen. Ich hab ihn sogar über Nacht stehen lassen. Dazwischen schlage ich den Teig ca 2 – 3 mal immer wieder zusammen..
Nach der langen Rastzeit wird der Teig in das bemehlte und mit Gänseblümchen ausgelegte Gärkörbchen gesetzt und weitere 2-3 Stunden zum Rasten zugedeckt..
Vor dem Backen das Rohr mitsamt dem Topf auf 250°C vorheizen..
Jetzt wird das Brot auf ein Backpapier gestürzt und in den heißen Topf gesetzt..
Im vorgeheizten Topf bei 230 °C für 20 min mit Deckel backen. Danach den Deckel des Topfes runternehmen und weitere 25 min bei 210 °C fertig backen..
Nachdem das Brot gut ausgekühlt ist, kann es angeschnitten werden und mit Frischkäse, Schnittlauch und frischen Gänseblümchen angerichtet werden..